Everyone, please welcome your new Miss Botswana for 2016 -
Thata Kenosi
.
That was four years ago and we figure it's time for a flashback and find out what our most talked about Miss Botswana, Kenosi has been up to since her reign.
Thata Early Life
Thata Kenosi is from Moshupa, Botswana and is the eldest of three. She has two younger sisters. The Kenosi family live according to Christian values, as explained by her joyful mother Kgalalelo Kenosi. Her father Pulaentle Kenosi, unfortunately passed away.

Mama Kenosi said her child was raised by both parents and while she was young, Thata liked to dance.

Although she comes from a well off family, Thata recognizes her privilege and has since dedicated her life to helping those less fortunate.


Thata Education

Thata was a student at the University of Botswana, who pursued a Bachelors in Arts, majoring in Political Science. She went on to spend 10 years in Japan and she is now fluent in both Japanese and English. She says that her Setswana has taken beating since moving but says she pushes herself to keep practicing.


Thata Wins the Crown
The crowning of Thata Kenosi at the tender age of 21, as the 50th Miss Botswana brought a temporary happiness to the nation, but boat loads of smiles and glee to her family and her village of Moshupa.
Thata showed signs that she might scoop the crown when the 12 contestants paraded on swim wear.She adorably strutted her fairly long legs with confidence. It did not come as a surprise when she emerged in the top five.
Her answers to the judges were simple and she managed to keep calm when there was booing from the crowd towards the end of the Q&A segment of the pageant.
The beauty queen loves children, a statement which was confirmed with her project that dealt with under privileged and mentally disabled children.
Thata took the crown with first princess, Oabona Kamona and the second princess, Phatsimo Baoagi.
Also read:
Can You Handle Thata Kenosi?
Thata's reign as Miss Botswana
It seems like when women win a pageant their lives can be filled with positive press or controversy and for a little bit after Thata's reign started, there seemed to be the latter. During the final question and answer segment she was asked, how she would help or solve the problem of unemployment in her country, Thata answered, "'Things' such as ESP can be used to solve 'things' like unemployment" and did not expound her answer further.
The people of Botswana were not impressed with the twenty-one year old's answer and she was bullied and ridiculed for some time after she was crowned. People felt that she wasn't well equipped for answering issues surrounding Botswana at the time.
Ever since then it has been a rough start to her reign as Kenosi was accused of being the judges' favorite and her mother's visits during the boot camps did not help. Her competitors felt there was favoritism and that the competition was rigged in favour of Thata.
Pageant enthusiasts also complained that her tatoos automatically put her at risk of disqualification at the final stage of the Miss World competition where she is to represent Botswana later that year, in November in the US.
Thata admits that throughout all the controversy during her reign, it felt like she was not being supported by the nation. Before leaving to compete, she named Mpule Kwelagobe as one of her idols, and was adamant that she would be this year's Miss World despite the nation's naysayers.
Thata misses out on Miss World crown
Thata Kenosi missed out big on the Miss World 2016 pageant where she did not make it to the top 20.
Despite being a favourite to win The Great Pageant Community (TGPC) Miss Popularity, where she was on second position, she did not make it to the top 20 contestants. Kenya and Ghana were the only African countries to make it into the top 20.
Despite the loss Kenosi maintained her cool as she congratulated Stephanie Del Valle for wining the title.
"Congratulating the newly crowned Miss World 2016, Stephanie Del Valle from Puerto Rico! (sic)," Kenosi said through her Twitter account.
Thata in Shape
Thata enjoys keeping fit, and has love for volleyball and the gym. She has the body to show for her hard work maintaining her shape.
She has always been an advocate for being healthy and fit and tries to keep her physique in tip top shape.
Also Read:
Thata's skincare routine
Thata's Controversial Confession
Following the ongoing online petition that was seeking for justice to prevail against a certain Liquid library Randal, the former Miss Botswana beauty queen Thata Kenosi alleged that she had fallen prey at the hands of the same man who had been accused of rape with a long list of victims who had come forward. The former Miss Botswana Thata allegedly revealed that that has suffered abuse at the hands of a man she was with for a period of 4 years. The case had since caused some major uproar on all social media platforms in the country. As shared through her Twitter account, this is what she (Thata Kenosi ) has had to say;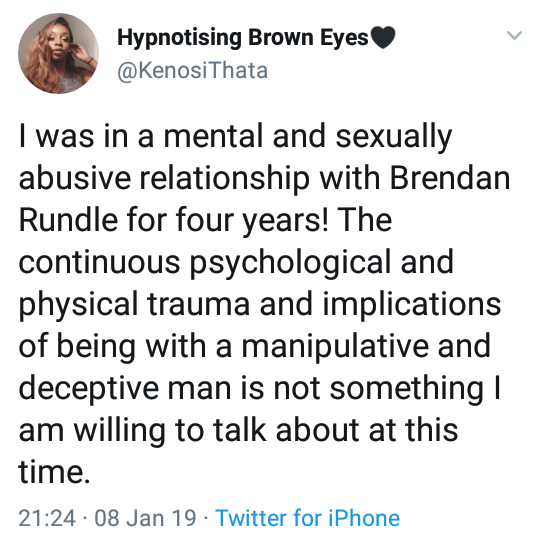 Thata on Haitus
Last year, Thata went on a social media hiatus which
made her followers wonder what she was up to?
She tweeted that she apologized for not being consistent on her socials as much as she used to.
But it turns out the former Miss world contestant made a huge mark not only in Botswana but worldwide. She still seems as her social media page would suggest, to be doing photo shoots with prominent brands but she is taking ownership and control of her privacy and what she lets the public in on nowadays. She retains a very successful career as a model. She has been spotted on her socials in more than one post with other models.
Thata Now
Thata is known for her compassionate nature according to the Botswana Youth Magazine, turns out she is currently residing in the United Kingdom.
She at least managed to become a political scientist, which proves big brains above that astounding beauty.
Social media has however shown an ever glowing Thata, who now describes herself on Instagram as an entrepreneur and political scientist.
The controversies that came up after her reign have not held her back. In fact, she's ahead of most with her career and her life abroad
Read next:
Bangu Is Back With A...Bang
Main Image Credit:
thebotswanagazette