What is a house? Is it comfort, perhaps a bit of class? Maybe it is a dash of colour and a touch of imagination. It is different shades of our personality making its way down the hallways of our minds, to find resting places on the surfaces of a building. Yet, what is it that goes into a home? Surely it is much more than a house, much more than four painted walls. It is a style of life that turns a house into a home, providing a place of joy, warmth and leisure to its occupants.


We see celebrities both local and international, turn cement and bricks into places and spaces admired by millions. From extravagant old English taste and style, to the modern upmarket and chic décor; there is no limit to the opulence we see when it comes to the homes and lifestyles of our favourite celebrities.

Botswana is known to produce some of the most famous and successful celebrities in Africa. These admirable icons give us a glance into their glamorous homes and yet remarkably grounded daily lives.
Take a look at the homes and lifestyles of 2 of Botswana's most esteemed families:
Home and Lifestyle of the Ferguson's
Originally from Botswana, the Ferguson duo now reside in sunny South Africa. Both
Shona and Connie Ferguson
began their careers with acting that catapulted them to fame in the entertainment industry.
Connie Ferguson
played
Karabo Moroke
in the drama series
'Generations'
, as well as
'the Wild'
and
'Rockville'
. Shona Ferguson starred on
'Scandal'
,
'Muvhango'
, '
Rockville'
and
'The Wild'
.
The pair have now become Television moguls in entertainment. They now have their own production house called,
'Ferguson Films'
which has produced a number of various African television shows. '
The Queen'
being one of those shows that is hot on the lips of many Ferguson fans.
The Ferguson Home
A lush green manicured lawn covers a majestic plot of land at the house of Shona and Connie Ferguson. The landscaped lawn is surrounded by a cascaded 3 metre wall, painted in a two toned combination of grey, with electric fencing and enclosed with further silver balustrades.

Stretching from the security quarters at the front of the Ferguson yard, is a red and grey brick paved drive-way that makes its way throughout the property. The building, the couple call home, is an architectural dream, styled in a modern mix of Greek inspiration with cylindrical shapes and clean straight lines.
The interior of the house is just as glamorous as the exterior, if not more so. In one of the lounges hangs a ceiling to roof sized picture of the happy couple framed in gold and brown. It is set against a medium grey Victorian wall papered backdrop. The rustic golden coloured room is accented with bright red and black.
In another exquisite sitting room, stands ceiling to floor windows overlooking their green landscape, with gold rimmed Victorian chairs and a black circular side table.
They enjoy their home with their 2 daughters and grandson. Lesedi Matsunyane-Ferguson (and her son), who was from Connie's first marriage to Neo Matsunyane, and Connie's second daughter, Alicia Ferguson, from her husband Shona Ferguson.

The Fergusons are often seen happily posing together in pictures, on family days out and various family vacations. While their children are thriving, the Ferguson couple are also quite obviously still very deeply in love.

A recent Instagram post from Connie, showed the couple in a passionate pose facing each other, standing shoulder to shoulder with the caption "Whispering sweet nothings into his ear."


They've got the family, the mansion, the cars and the status. What a lifestyle indeed!
Home and Lifestyle of the Sento's
Of course we could not speak about 'Home and Lifestyle' without including our favourite and legendary 'Taku Taku' hitmaker Odirile Vee Sento
aka
Vee Mampeezy. Together with his wife Kagiso Sento, he has built a cosy empire for him and his family. The couple were both born and raised in Botswana.
The two dated for a long time before tying the knot.
In his earlier working life before music, Vee consistently strived for professionalism. He pioneered his own brand in water bottles and condoms. He called them Mavitah and Lavitah respectively.


The 'Taku Taku' hit is the song that sparked all the craze with his music though, taking his career to the great heights it is at today. His hardwork has certainly paid off. Vee and his family are living a lavish lifestyle which is well deserved due to the tireless hours of work that Vee ploughed through over many years. They live in a wealthy neighbourhood and own a fleet of expensive cars.
The Sento Home
In
Vee Mampeezy
's music Video
'Champion'
, he gives us a sneak peek of his very own house. It shows off a large car park entry way, enclosed by large beige pillars, several large plants and a massive garage. The courtyard also shows off a number of flashy cars, which speak volumes of the Sento's lifestyle. Inside the foyer of his house hangs a large crystal chandelier from a high ceiling.
Above the dining area is a glass roof and the floors are covered with a light beige glossed tile. The living area opens out overlooking a large pool enclosed by tall circular pillars and an large green lawn. One of the lounges boasts a beige velvet couch, beachwood floors and soft golden accents in the other furniture and décor. The video also shows off a salt water aquatic tank.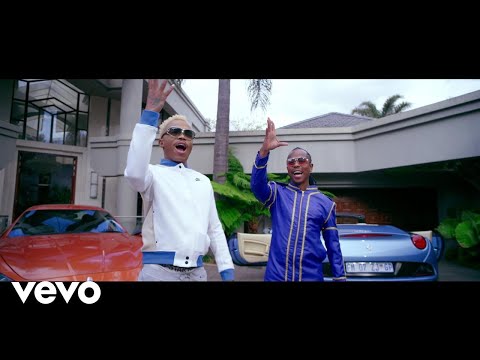 This house gives Vee's beautiful and supportive wife, Kagiso Sento, enough space to strut her stuff in, as well as giving their 2 children ample space to run around and play.

As the saying goes, 'A couple that hustles together, stays together.'
This pair have proven that, with Vee publicly supporting his wife and their numerous on stage perfomances together.



Main image credit: Instagram