The word is in and it calls for a huge celebrations. Botswana will be the host country for the upcoming Forbes 30 Under 30 Summit Africa and our local starlet
Marang Selolwane
has scored big time.
Read more:
Marang Selolwane's Sympathy Towards All The Victims
As a TV, Theatre, Film Personality and Social Activist, Marang Selolwane has been selected as one of the delegates to sit on the panel at the Forbes 30 Under 30 Summit Africa in the next two days to come. Forbes 30 Under 30 Summit is one of the largest events that recognizes hard working individuals and open doors for growth and networking at the highest level of its form.
Taking to social media,
Marang Selolwane
has been taken by excitement and joy for being selected as one of the delegates, representing herself and Botswana at large to the world.
"I believe that a feature on the coveted list would not only stamp the presence of creative artists and content creators from Bots on the global map but also prove to aspiring creatives locally that even in our small country, it is possible to be recognized beyond our borders" wrote Marang Selolwane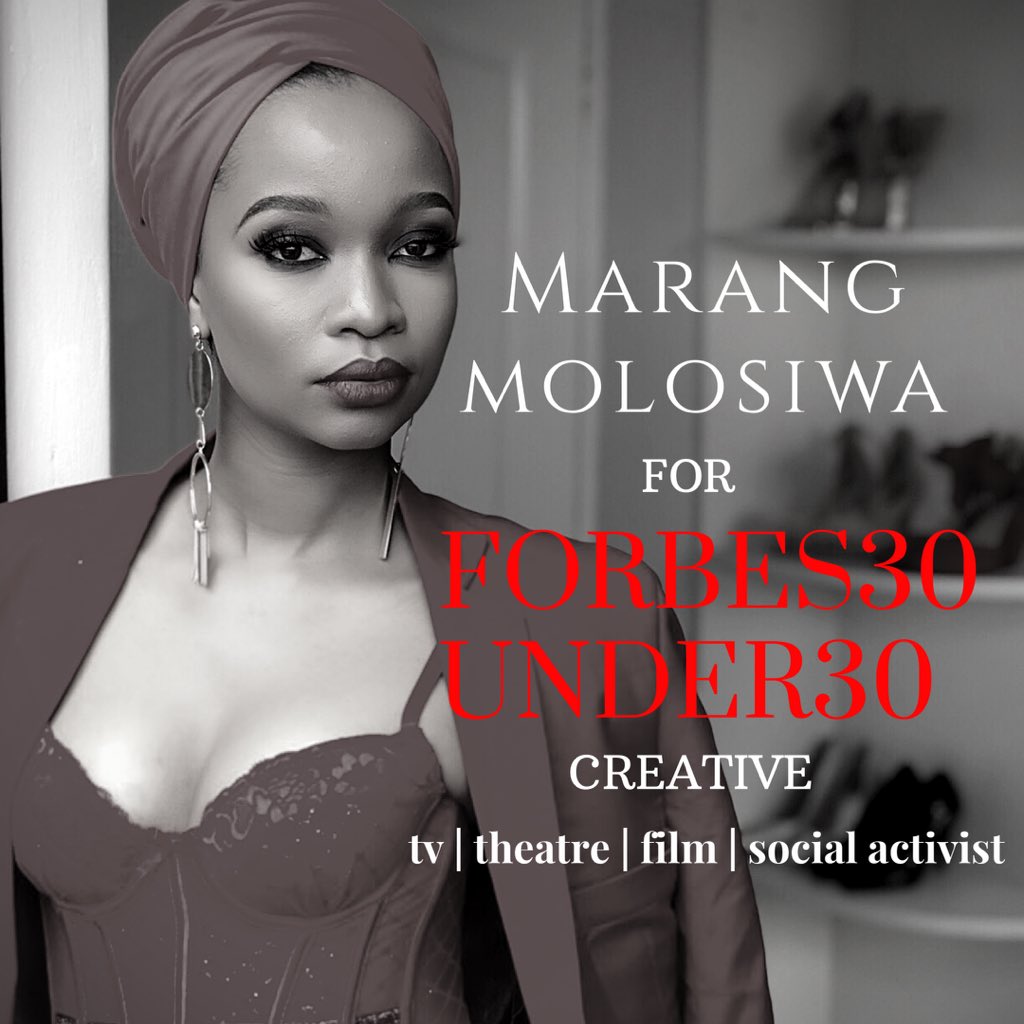 Having applied last year to be part of this prestigious event in our calendar, Marang has been waiting with bated breath for the feedback. Lucky for her, her hard-work, determination and dedication to her work and craft had finally paid off. Now, Marang Selolwane will be amongst the greatest at the Forbes 30 Under 30 Summit Africa 2022.
To the best of her fans and followers credit who have played a huge role in selecting her for a spot in the list for the delegates. Taking to social media, the love and support her fans have showered her with is truly proof that she really deserved the honor and privilege.
Currently pursing her studies towards her
MA in Cultural Policy and Management
at the
University of Witwatersrand in Johannesburg at the School for Arts
, Marang is truly an inspiration at her age. While juggling between being a mom to her daughter
Nami Selolwane
, a wife to
Dipsy Selolwane
and her many other jobs including content creator, Marang Selolwane is a true epitome of beauty with brains.
Read more:
Marang Selolwane's Sympathy Towards All The Victims
"The Under 30 Summit comes to the world's greatest growth market, Africa, for the first time. In April, 2022, the world's most elite young entrepreneurs and game-changers will convene in one of the world's most beautiful countries, Botswana. Of the participants, one third will come from the 30 Under 30 Africa community, one third from our host (Botswana), and one-third from the Forbes 30 Under 30 community worldwide" wrote Forbes

We would like to congratulate Marang Selolwane for making it big at this years Forbes 30 Under 30 Summit Africa. The event will run for 5 days from the 24th to the 28th April 2022.

Image credit: