The life of a celebrity comes with it's fair share of challenges and controversy. In all honesty, celebrity scandals happen so frequently in this day and age and with social media, the world is kept in the loop, second by second. Yet as soon as fans get drawn into the drama, media takes us to the next big scoop of the day.
Many celebs have cleverly managed to navigate their social status in a way that uses controversy as a means of promotion for themselves and careers. In Botswana we have followed our favourite celebrities and enjoyed the fruit of their careers and talents, We now take a look at how 3 of our home grown celebs get back up after a scandal.
Let's have a look at the life of Botswana's celebs and the controversy that has surrounded them during their careers:
Thato Sikwane aka DJ Fresh/The Big Dawg is from Botswana and has taken the continent of Africa by storm. This 47 year old radio DJ is also a producer and entrepreneur. His rise to fame took off with his long standing career at South Africa's two leading radio stations, 5FM and Metro FM.


The Big Dawg has been involved in many different charities, giving back out of the abundance he has earned. One of which was in 2014 when he joined Gumtree and renovated a daycare centre for underprivileged children. The project was spearheaded by DJ Fresh and it was called the Gumtree Extreme ReFresh that was for the Little Pina Pina centre in Soweto. He also called on small businesses and individuals to help the cause through donation and volunteering.
Controversy
Earlier this year rumours did their rounds regarding DJ Fresh being suddenly suspended from Metro FM. Most reports were unclear on this matter, however media consultant Tim Zunckel cast his personal spin on what might be going on.
"I think there's some issue between him and management, and management are trying to prove a point and they are using a relatively small thing," he said.
Zunkel, being experienced in station management, said, "I've had a programming thing before where I told a guy, say something stupid, so that we can give you time off air … because there's a storm around him, because they don't have a stunt, or an interview, or they've climbed into a certain community, whether it's religious or cultural, so there's pressure or heat and you basically need to reset it by getting the talent off air for a period of time."


DJ Fresh Speaks up after Suspension
When DJ Fresh was approached to comment on this matter, he initially respectfully declined. Having a strong bond with his fans, he did however briefly address the suspension on twitter. In response to a fan asking when he would return to the station, he said, "Your guess is as good as mine … maybe never!! Only Badimo know these things,"
However, 3 weeks after the drama went down, DJ Fresh spoke up regarding his situation. These were his words on a twitter video,


"The only reason I'm doing this video is because of where we are right now. I need to apologise for the wall of silence. It's been a few weeks of not knowing what the heck is going on which has been as frustrating for you as it has been for me. Truth be told the reason for the silence we had an impasse (disagreement) with the corporation (SABC). At this stage I can't tell you whether this impasse is unbreakable."
He then went onto thank everyone who has supported him throughout career and said, "you deserve better than the silence and I'll break it … watch this space."
DJ Fresh has been inspiring young and old alike and we will definitely be watching this space.We leave it to him to end off our portion on Botswana's fav radio celeb…


"The sky is the limit: you can write your own pay cheque, depending on how hard you work, and if you have a good manager or agent. In the radio business, if you have passion and drive, nothing can stop you!"
Odirile Vee Sento better known as Vee Mampeezy is Botswana's musical golden child. He is a lead singer and songwriter of Lamalanga and Black Money Makers records. He has been in the music industry for over 12 years and won a number of awards.

Vee tries to give back to the communtity and posted a pic on instagram of him and his team giving an elderly woman groceries. The post was captioned with these words, "Will never stop giving come rain or sunshine, because we are where we are because someone gave!! Let's give."
Controversy
In 2018 critics suggested that it might be too late for Vee to reinvent himself as the people's artist like he has been for decades. In his music videos, he uses popular South African names like
Khanyi Mbau and
Somizi
in an attempt to remain a household name and recreate his image as an African Giant.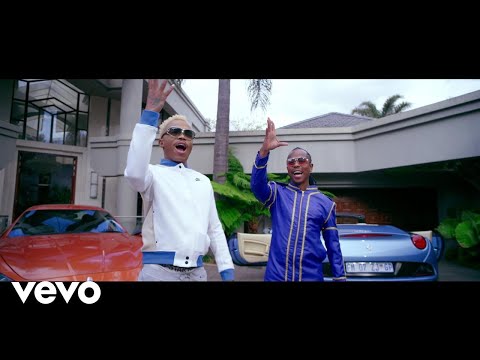 Vee's imperfections have been rather noticeable and it was suggested that he should stick to his original authenticity and make music that comes naturally. We do however believe that Vee is undoubtedly the most meaningful musical icon to emerge from our country.
Shona
and Connie Ferguson are Botswana's favourite celebrity couple. The couple are both popular actors best known for their roles in South African shows. They also jointly own the production company, Ferguson Films.
Ferguson Films has produced shows like Rockville which was commissioned by M-Net; iGazi; the Gift; The Throne; The Queen; The River and The Imposter.
The couple often appear in the own productions; for example Connie played the role of Mavis Mabaso on Rockville.
Controversy
Ferguson Films was accused this year by the actress Vatiswa Ndara of the company exploiting her and at one point even used the word 'slavery'.


She wrote a letter to the minister of Sports, Arts and Culture, incriminating the Fergusons and asked the minister to intevene on such cases of actors being exploited by Film Production company's.


She was disgrunteld on the grounds of allegedly not being paid correctly by Ferguson Films. She called it 'daylight robbery and slavery'.
The Fergusons Speak Up
The couple who had initially remained quiet on the matter later broke their silence over the iGazi actress' accusations of exploitation. She even wrote a long letter to the Minister of Sports, Arts & Culture whereby she incriminated the Fergusons.

A letter from their lawyer Brendon De Kooker read,

"The allegations towards Ferguson Films are consequently misguided, misdirected and misleading and can be seen as a ploy to defame and tarnish our name and reputation. Ferguson Films prides itself in producing quality shows, providing much needed employment to new and old talent and contributing to the growth of the industry. We will remain steadfast in our endeavour to treat everyone who works with us fairly and with the utmost respect."
The whirlwind of celebrity controversy is nothing new, and these strong-willed celebs show the world how to face a challenge with grace and courage.
In the wise words of Connie Ferguson …
"Not everyone will like you, that's okay. Just remember to like yourself enough for everyone."
The entertainment industry is one that is not meant for the weak. It is filled with so much controversy and one needs to have a thick skin. These celebs have somehow managed to sail through it all.

Main image credit: Instagram