Nijel Amos, is a Botswana middle-distance runner who specializes in the 800 metres discipline and was Botswana's first ever Olympic Medalist.

Nijel Amos is from Marobela Village in the North Eastern part of Botswana in 1994,cut to 2010, where he decided to run (and finish) a 1 000m race at the South African Youth Championships. As a skinny, black, sixteen year old boy at the time, no one paid attention at his abilities until exactly one year later, the boy stopped everyone in their tracks when he ran in his hometown, Botswana. Amos broke a record in the junior category with a record time of 1:47.28 at the African Junior Athletics championships.


The rest, was (of course) history.


Nijel Amos Early Life
Fresh out of high school in 2011, Amos improved on his record and finished fifth in the 800m at the World Youth championships. His sweet taste of glory was on the international stage when he set yet another new championship record of 1:43.79 at the 2012 World Junior championships.


Nijel Amos Running Career
Amos won a silver medal in the men's 800 m race, the first Olympic medal for his country. His time of 1:41.73 established a new World Junior Record behind the new World Record set by David Rudisha and is tied with Sebastian Coe for the third fastest individual ever.


After an injury filled 2013 season, Amos returned to good form in 2014. At the 2014 Prefontaine Classic, Amos set a meet record and world leading time of 1:43.63. At the Herculis IAAF Diamond League, he again set a meet record and world leading mark of 1:42.45. Beating Rudisha for the 2nd time on the season, his performance was the fastest 800m race since the men's 800 m race.
At the 2014 Commonwealth Games, Amos won the 800 meter Gold medal in 1:45.18. In the tactical affair, Amos maneuvered out of a box to pass World Record holder David Rudisha in the last 50 meters.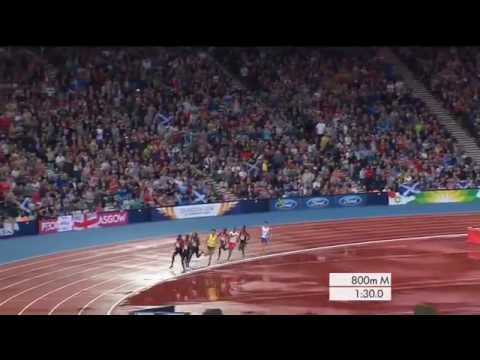 At the 2016 Summer Olympics, Amos competed in the 800 m and the 4x400 relay. He finished 7th in his heat for the 800 m and unfortunately, did not qualify for the semifinals. The Botswana 4 × 400 m relay team finished 5th in the finals. Amos was the flag bearer for Botswana during the Parade of Nations.


He finished 5th in the 800m at the 2017 World Athletics Championships.



Nijel Amos The Ladies Man
After a photograph with
Mmina Gaebonwe
was captioned, 'Baby I love you,' it took social media by shock. Amos, had been in a relationship with
Modioki Gaborone
(former Miss Botswana) for years and the public was unaware that their relationship had ended. But Mmina was adamant that she and the athlete were just business associates-nothing more, nothing less.
Nijel Amos Lifestyle
Amos has received a lot of backlash for his lifestyle choices. The once wannabe DJ had been condemned his over-the-top lifestyle and has since, learnt to accommodate people's criticism on his life. Noting that it all comes with being a public figure and being in the limelight adding that even his 800m tactics were once criticized.



Nijel Amos The Family Man

There's no doubt that every opportunity he gets from his busy schedule, Nijel always makes time for his little princess. And must we say, they surely do look like the dynamic duo.


We can get enough of Zoey's beautiful smile too.


Nijel Amos Controversy
Nijel Amos joined the UN walk against
Gender Based Violence
. Nijel walked among the likes of
Marang Molosiwa
and
Samantha Mogwe
in a show of solidarity against violence against women and led a pledge chanted by the crowd to stand against all forms of woman abuse.
Well, plot twist, later on that evening Mmina Gaebonwe got on Twitter and accused Nijel of lying to the nation and the world at large, as well as being a perpetrator of woman abuse himself.


Mmina Gaebonwe got on Twitter and accused Nijel of lying to the nation and the world at large, as well as being a perpetrator of woman abuse himself.


Nijel Amos's Comeback

Amos joined forces with and became a member of the Nike sponsored Oregon Track Club Elite professional training group. He dealt with injuries in 2013, didn't make the finals at the 2015 IAAF World Outdoor Championships and by the time the Olympics rolled back around, he wasn't anywhere near his previous form and was bounced from contention during the heats, when he finished seventh and didn't advance to the semifinals.

With his confidence restored and some tweaks in his training, Amos has set his sights on Rudisha's world record. With no major meets on the schedule this summer, Amos said now is the perfect time to see just how fast he can go.
As for when and where his world-record attempt might take place, that isn't set yet. Amos just knows he feels as good as he has in years, and definitely much stronger.

We would be excited to see where this year will take him as he has a beautiful little daughter who loves to show off, on his socials and he's clearly back to training with the right backing.

Here's to striking gold in #20Plenty, Nijel.